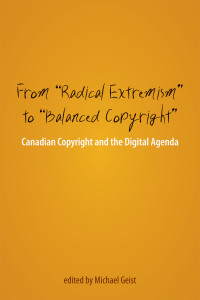 I am delighted to report that From "Radical Extremism" to "Balanced Copyright": Canadian Copyright and the Digital Agenda, the new peer reviewed book from Irwin Law on Bill C-32 and Canadian copyright, is now available online.  The book is available for download from the publisher under a Creative Commons licence.  A print version of the 652 page book is available for purchase for $65.  The book covers a very broad range of issues including Canadian copyright history, digital locks, ISP liability, creator concerns, educational provisions, and access to government and fact-based works.  Yesterday I highlighted Carys Craig's contribution on locking out lawful users (full text now available here) and in the coming days I will be placing the spotlight on the many other exceptional contributions.
As the back of the book summarizes:
This book represents an effort by some of Canada's leading copyright experts to shift away from the sloganeering that has marked the debate to date by moving toward an informed analysis of Bill C-32 and the future development of Canadian copyright law. Edited by Professor Michael Geist, an internationally regarded authority on Internet and technology law, it responds to the need for non-partisan, informed analysis of Bill C-32.  An exceptional group of Canadian scholars from coast-to-coast have come together to assess Canada's plans for copyright reform and the digital agenda in this timely volume that features context for the reforms, analysis of its impact on technology, business, education, and creators, as well as a look ahead to future copyright and digital issues.
All contributors set aside their research agenda and summer plans to write their chapters in the hope of educating the public, policy makers, and politicians about the implications of Bill C-32 and the choices Canada faces as it moves forward with copyright reform.  With hearings on Bill C-32 likely just weeks away, it is our hope that this book will provide a positive contribution to the policy and legislative process.