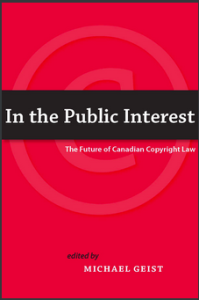 I am delighted to report that In the Public Interest: The Future of Canadian Copyright Law has been published and is now available for purchase or free download under a Creative Commons license (I should note that all royalties will be donated to Creative Commons).
I have great hopes for this book as I believe that by bringing together 19 experts from across Canada for a peer-reviewed, 600-page text on Bill C-60 and future Canadian copyright reform we will succeed in raising the quality of the copyright debate and ensure that there is a voice for non-partisan experts who are committed to copyright in the broader public interest.
The book divides the 19 contributions into three parts. Following my introduction, part one contains three essays (Murray, Scassa, Tawfik) that place Canadian copyright reform in context.
Part two features eleven essays on Bill C-60 including four contributions on TPMs (deBeer, Bailey, Kerr, Geist), two on education issues (Trosow, Wilkinson), and individual articles on RMI (Perry), making available (Fewer), ISP issues (Hamilton), performers' rights (Sundara Rajan), and photographers' issues (Cameron).
Part three turns to the future of Canadian copyright reform with five exceptional pieces on fair dealing (Craig), user rights (Drassinower), copyright term (Lametti), extended licensing (Gervais), and crown copyright (Judge).
I' m grateful to all the contributors who put aside other commitments to get this done in an incredibly compressed time frame, to the peer-reviewers who provided great feedback, and to Irwin Law, for embracing not only the opportunity to publish a book on Canadian copyright but to adopt the Creative Commons license.
As we embark on a debate on the future of Canadian copyright, we need to hear from our own experts in their voice.  This book moves us in that direction.  Buy it or download it, but most of all read it.