Edward Snowden burst into the public consciousness in June 2013 with a series of astonishing revelations about U.S. surveillance activities. Snowden's primary focus has centered on the U.S., however the steady stream of documents have laid bare the notable role of allied surveillance agencies, including the Communications Security Establishment (CSE), Canada's signals intelligence agency. The Canadian-related leaks – including disclosures regarding surveillance over millions of Internet downloads, airport wireless networks, spying on the Brazilian government, and the facilitation of spying at the G8 and G20 meetings hosted in Toronto in 2010 – have unsurprisingly inspired some domestic discussion and increased media coverage on privacy and surveillance issues. Yet despite increased public and media attention, the Snowden leaks have thus far failed to generate sustained political debate in Canada.
I am delighted to report that this week the University of Ottawa Press published Law, Privacy and Surveillance in Canada in the Post-Snowden Era, an effort by some of Canada's leading privacy, security, and surveillance scholars to provide a Canadian-centric perspective on the issues. The book is available for purchase and is also available in its entirety as a free download under a Creative Commons licence. This book is part of the UOP's collection on law, technology and media (I am pleased to serve as the collection editor) that also includes my earlier collection on the Copyright Pentalogy and a new book from my colleagues Jane Bailey and Valerie Steeves titled eGirls, eCitizens. All books in the collection are available as open access PDF downloads.
An official launch event for the book is planned for Thursday, June 4th at 4:00 pm at the University of Ottawa. I'll be part of a panel of contributors to the book discussing their chapters that will also include Craig Forcese, Jonathan Obar, Tamir Israel. The event is free and open to the public.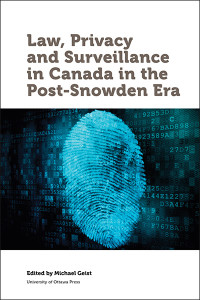 The nine contributions in the book are grouped into three parts: understanding surveillance in Canada, legal issues, and prospects for reform. I'll write more about the contributions in upcoming posts, but two themes run throughout the book.
The first theme is secrecy. That secrecy is linked to surveillance may seem unsurprising, however secrecy now extends far beyond the specific surveillance programs or activities undertaken by Canada's surveillance agencies. For example, Canada's network architecture remains largely shrouded in secrecy, with the lack of domestic Internet exchange points creating a network framework that diverts considerable domestic traffic through the United States.  Moreover, Canada's legal framework is often hidden behind ministerial authorizations that are not public, judicial decisions that are secret or heavily redacted, and government legal opinions that are privileged and confidential.
The second theme points to serious cracks in the Canadian surveillance law framework.  Contributors point to a myriad of problems with a legal framework that appears ill-suited to address modern day communications networks and privacy expectations. Several contributors raise concerns related to global networks, cross-border information sharing, the legal treatment of metadata, and the efficacy of current oversight mechanisms. As the fault lines become larger, a robust public and political debate is needed. While there is no shortage of potential changes – most authors offer their own recommendations – successfully transitioning toward a reform agenda represents an enormous challenge for all concerned with privacy and surveillance in Canada.